Welcome to the CGI 2009 website
Date: May 26–29, 2009
Location: Victoria, British Columbia, Canada

A brochure of the program can now be downloaded in booklet form or in single-page form.

You are invited to participate in the CGI 2009 conference that will take place in Victoria, British Columbia, Canada on May 26–29, 2009.

Computer Graphics International Conference (CGI) features the latest original research in computer graphics. It will be held for the first time in British Columbia, Canada, in the beautiful capital city of Victoria.

CGI is the official conference of the Computer Graphics Society (CGS). One of the few truly international computer graphics organizations, CGI and CGS were started by Professor Kunii in the early 1980's as CG Tokyo. CGI conference is one of the top recognized international computer graphics conferences. Key research papers are published as journal papers in the Visual Computer. Recent conferences have been held in Turkey, Germany, Canada, Geneva, Hong Kong, USA, Crete, China, Brazil, to name a few.

The conference is co-located with Computational Aesthetics, CAe bridges the analytic and synthetic by integrating aspects of computer science, philosophy, psychology, and the fine, applied & performing arts. It seeks to facilitate both the analysis and the augmentation of creative behaviour. CAe also investigates the creation of tools that can enhance the expressive power of the fine and applied arts and furthers our understanding of aesthetic evaluation, perception and meaning. The conference features original papers and artwork displayed in a public art show.
Computational Aesthetics
CGI 2009 is co-located with Computational Aesthetics 2009.
Graphics Interface
The Graphics Interface 2009 conference is held on May 25-27 in Kelowna, also in British Columbia, Canada. Visitors attending both GI 2009 and CGI 2009 could use the following flight from Kelowna to Victoria:
WestJet 197,
departs 18:00(YLW), arrives 18:52(YYJ),
flight duration 0hr 52min.
Regular fare costs $129.00 CAD.
Please check current price and flight scedule before booking. CGI is not responsible for changes in flight fares, flight scedule or flight availability.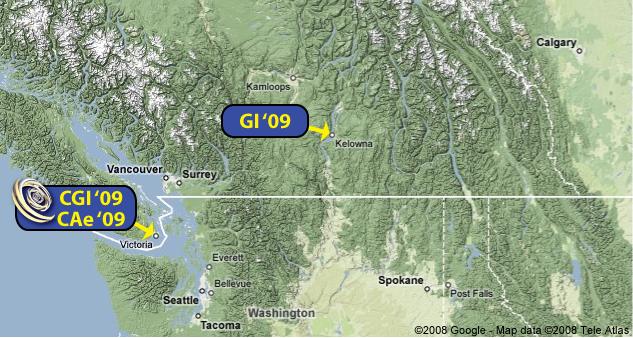 In cooperation with Eurographics and ACM Siggraph.